"Kindred: Celebrating Our Ancestors"
Annmarie Sculpture Garden & Arts Center (an affiliate of the Smithsonian Institution), Solomons, MD
Juried by Betty J. Belanus, Curator/Education Specialist, Smithsonian Center for Folklife and Cultural Heritage, Washington, D.C.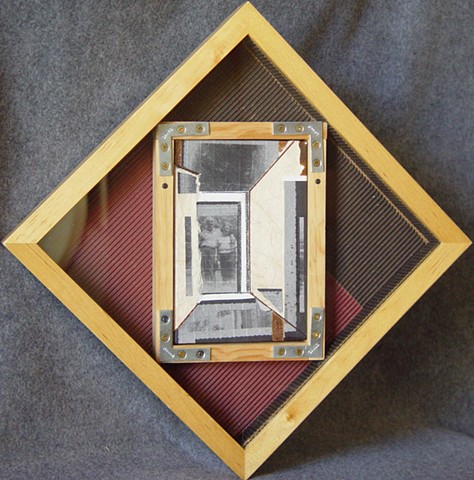 Pop and Me
Mixed Media: Japanese paper, digitized photographs, marker, graphite on canvas panel
14 1/8" x 14 1/8" x 2" (framed)
The "Postcards from the Past" series explores images of my family and images from my childhood: digitized photographs disassembled and reassembled into collages with mixed media.
The digitizing and collage processes are parallel to the memory process, which allows me to duplicate and relive and reconstruct the past.
Neutral images from the past carry with them good or bad
messages, depending upon their interpretation in the present.
Some provide comfort.
Some provide closure.


P.S. This is my favorite photograph of my father and me. We were at Presque Isle on Lake Erie. We had a wonderful day in the water!