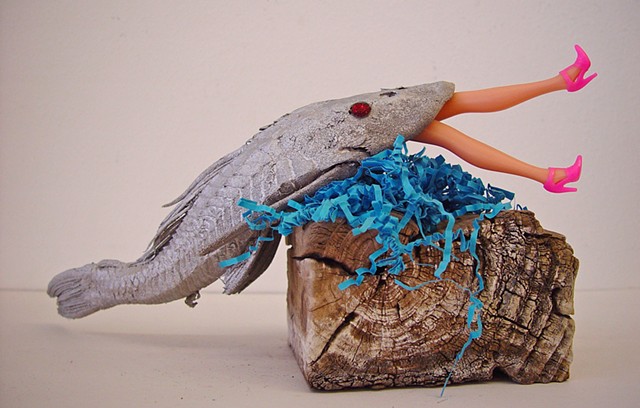 Mrs. Jonah and Another Great Fish
Plecostomus (as retrieved by the corgis), aerosol, buttons, doll legs with shoes, shredded paper, and found wood
7 1/4 x 13 x 8 1/2"
2018
"5th Annual Mujer-Eres International Art Exhibition"
B&E Art Studio
335 East 10th Street
Brownsville, TX
March 23, 2019 - March 29, 2019
Last winter Peggy and her four (4) pups (Beauregard, Benjamin, Honey, and Mr. Pinkerton) retrieved a record catch of 22 Plecostomus and a hefty veterinarian's bill for ingesting too much of the bony, hard-scaled bodies. With so many free art materials available, I decided to do other members of the Jonah family.
As a fashion statement Mrs. Jonah retained her pink high heels during the whole ordeal of Mrs. Jonah and Another Great Fish.