March 23, 2019 - March 29, 2019
"5th Annual Mujer-Eres International Art Exhibition"
B&E Art Studio
335 East 10th Street, Brownsville, TX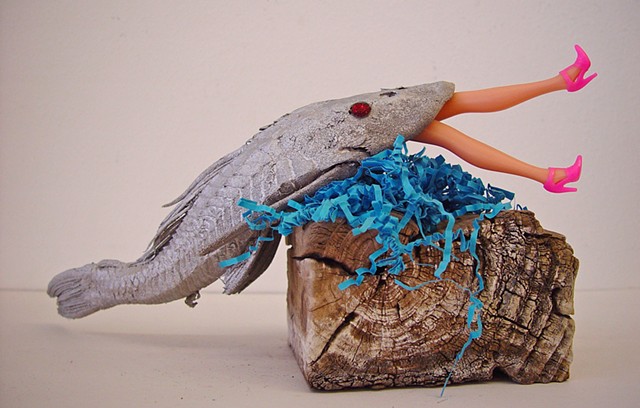 Mrs. Jonah and Another Great Fish
Plecostomus (as retrieved by the corgis), aerosol, buttons, doll legs with shoes, shredded paper, and found wood
7 1/4 x 13 x 8 1/2"
2018
Last winter Peggy and her four (4) pups (Beauregard, Benjamin, Honey, and Mr. Pinkerton) retrieved a record catch of 22 Plecostomus and a hefty veterinarian's bill for ingesting too much of the bony, hard-scaled bodies. With so many free art materials available, I decided to do other members of the Jonah family.
As a fashion statement Mrs. Jonah retained her pink high heels during the whole ordeal of Mrs. Jonah and Another Great Fish.