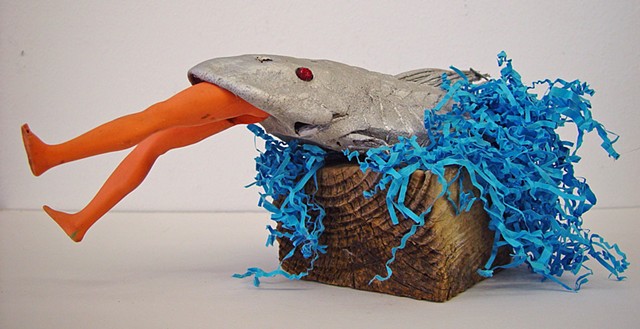 Jonah and the Great Fish
Plecostomus (as retrieved by the corgis), buttons, Ken doll legs, thumbtacks, shredded paper, and found wood
6 ½ x 12 x 9"
2018
"5th Annual Mujer-Eres International Art Exhibition"
B&E Art Studio
335 East 10th Street
Brownsville, TX
March 23, 2019 - March 29, 2019
The Jonah Family began with the dogs. One Valentine's Day my corgi Peggy Guggenheim brought me the front section of a very large Plecostomus from the resaca. I left it outside to lose its pungent aroma. At some point I perceived it as Jonah's "great fish" from the Old Testament. I just happened to have some pieces of Ken dolls and so emerged Jonah and the Great Fish.