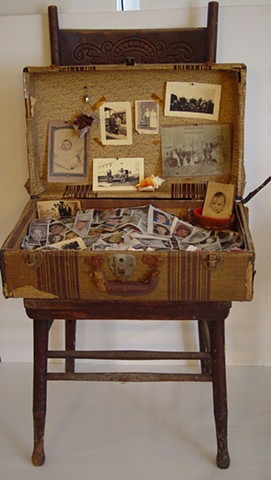 Memento Mori: Packin' Up / Movin' On
Mixed Media: Found suitcase, newspaper obituary photos, scanned photos, camera case, dried leaf, shell, map pins hanging clip, garage dirt and dust.
41 ½ x 20 ½ x 22 ½"
"47th International Art Show"
Brownsville Museum of Fine Art
660 E. Ringgold St.
Brownsville, TX 78520
March 27, 2019 - April 27, 2019

Memento Mori literally means, "remember that you will die." Just as the seasons turn from spring to summer to autumn to winter, the cycle of life moves from birth to life to death. As in the 17th and 18th century Dutch paintings, empty shells remind us that we are mortal, that life is fleeting, and that we will all die.
Obituary notice photographs show us the physical changes wreaked by time and the ultimate conclusion of the life cycle. I was particularly struck by the obituary inclusion of a deceased newborn's foot print…a footprint in the sands of an all too short a time.