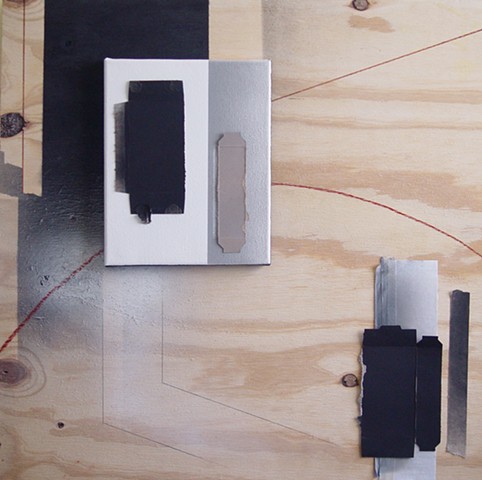 Fragmented Box (via Francis Bacon) #1
aerosol, cardboard, tape. stretched canvas, conte, graphite, marker, paper on plywood
23 3/4 x 24 x 3/4"
Gallery Selection
Harlingen Art Forum Gallery
115 East Jackson
Harlingen, TX
November 2, 2018 - March 16, 2019
The 14 July 2016 issue of ART IS ALIVE, an online magazine, included a review of "Francis Bacon at the Grimaldi Forum in Monaco." The article included a gallery installation view of "Bacon's last painting, completed in 1991, the never before-exhibited Study of a Bull (1991, Private Collection)."
Intrigued by the composition of Francis Bacon's last painting, Study of a Bull, and how the glass over the painting reflected the gallery and paintings on an adjoining wall, I enlarged the image of the painting and the reflections it captured. From there I used the appropriated image as the basis for a series of studies of my own. This is one of the studies in that series.